Skip Navigation
Website Accessibility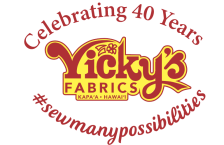 What is the Row by Row Experience?

Row by Row is a physical and virtual shop hop where each participating shop creates a "Row". They are all unique and fun and centered around the theme "Summertime".

How do I participate?

Pick up a free pattern from your local quilt shop or purchase a kit in person or online to start making rows. Put together 8 rows into a quilt and turn it into your local participating quilt shop. First complete quilt (pieced, quilted, bound) taken into the shop gets a prize!

PRIZE?!?

Yep, we love prizes. 15 Fat Quarters plus, plus, plus! Even more if you use the row from our shop!

When does this glorious event happen?

Event starts on June 1, 2023 and ends on September 30, 2023 (those are the dates to collect a prize, quilting never ends!!!)
Kits for Vicky's Fabrics' 2023 Drunk Turtles row go up for pre-sale online and in the store on May 15th. (We already have kits for our previous years rows available but they do not count towards row count for 2023 quilt.)
Pre-sale kits mail out on June 1, 2023.

Anything else we should know?

Include this years row Drunk Turtles for $10.00 shipping refund on on-line orders under $100.00 (online purchases of $100.00 or more get free shipping).
Check out the collectable license plates from all the stores for fun! These are fabric and can be used to make fun projects or used on the quilt to commemorate your 2023 experience
We have a collection of kits from previous years rows also available to make a fun "Vicky's Fabric's Row by Row" Quilt. (Make one and send us a picture and gifts may come your way).
Rows can be used for or in all kinds of projects, we have seen bags, jackets, wall hangings, runners and sew much more! Use one of our rows in an "alternate" project and send us a picture! (Can we say we love giving away gifts?)

More information?