Skip Navigation
Website Accessibility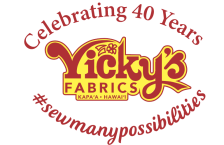 Beginning Sewing Classes - 3 sessions - Tuesday Mornings
In this class, students will select a beginner level pattern, and learn how to measure and cut a commercial pattern. Course includes each step from this pattern prep through cutting and sewing of the completed garment. Introduction to Sewing or some previous sewing experience is required for this course.


Contact Instructor, Barbara Green at 818-383-1155 to reserve your spot.
Skill Details:
Student must have had an introduction to sewing course or consent of instructor.
Instructor Name:
Barbara Green
Beginning Sewing Classes - 3 sessions - Tuesday Mornings
Tue, Jan 9, 2024 at 9:30 am to Noon
Tue, Jan 23, 2024 at 9:30 am to Noon
Tue, Jan 30, 2024 at 9:30 am to Noon