Skip Navigation
Website Accessibility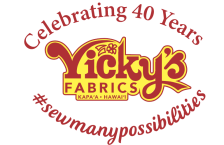 Tutu's Dresden Plate - 2 part class
If you enjoyed Tutus Fan or if you missed it, you will enjoy making the entire plate! You asked for it? In this class you will learn a cool technique to make those points, basic applique, curves and a scalloped border. Make one block, make 20. Charm square friendly. It is up to you. Quilt finishes at:
Skill Level:
intermediate
Skill Details:
Must have good rotary cutting skills, an accurate 1/4? seam and be adept with your sewing machine, stitches and feet. Must also have taken a basic quilting class.
Requirements:
Must have a 2 1/2? Dresden plate template, can be purchased day of class. Available at Vicky?s. Pattern included in class fee.
Instructor Name:
Julie Fregeau
Tutu's Dresden Plate - 2 part class