Skip Navigation
Website Accessibility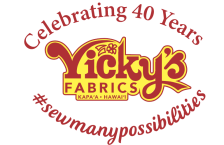 Kids Sewing Camp
Got a future fashion design in your midst? Start them out early with Barbara?s Sewing for Kids Camp! Ages 9 and up. Student chooses from three beginner patterns for first project. They learn basics of threading and using a sewing machine, seam allowances, size selection, cutting from a pattern and reading pattern instructions.

Contact Instructor, Barbara Green at 818-383-1155 for more info.
Skill Details:
Kids 9 and up Student must have had an Introduction to Sewing course or consent of instructor.
Instructor Name:
Barbara Green
Kids Sewing Camp
Tue, Jan 2, 2024 at 9:30 am to Noon
Wed, Jan 3, 2024 at 9:30 am to Noon
Thu, Jan 4, 2024 at 9:30 am to Noon
Fri, Jan 5, 2024 at 9:30 am to Noon



Tue, Jan 2, 2024 at 1:00 pm to 3:30 pm
Wed, Jan 3, 2024 at 1:00 pm to 3:30 pm
Thu, Jan 4, 2024 at 1:00 pm to 3:30 pm
Fri, Jan 5, 2024 at 1:00 pm to 3:30 pm