Skip Navigation
Website Accessibility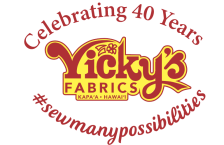 Kids Semi Private After School Beginner Sewing
Got a future fashion design in your midst? Start them out early with Barbara?s after school sewing classes. Ages 9 to 16 years. Student chooses from three beginner patterns for first project. They learn basics of threading and using a sewing machine, seam allowances, size selection, cutting from a pattern and reading pattern instructions.

Contact Instructor, Barbara Green at 808-822-7987 to reserved your spot.
Skill Details:
Kids 9 to 16 Student must have had an Introduction to Sewing course or consent of instructor.
Instructor Name:
Barbara Green
Kids Semi Private After School Beginner Sewing