Skip Navigation
Website Accessibility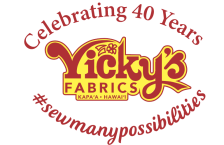 Happy Stuffed Pumpkins
Looking for a sweet little ?Make and Take? project? Maybe some new holiday decorations? This would be the perfect project for you and 3 of your best friends to get together and make, laugh, and go home with some completed pumpkins. Make them in colors of your choosing?think outside of the box? harvest colors, patriotic, Christmas, winter?.possibilities are endless!!
Skill Details:
Must have taken Introduction to Sewing, or have strong, good, basic sewing skills.
Requirements:
Supply list will be provided at sign up and /or a week before class.
Instructor Name:
Julie Fregeau
Happy Stuffed Pumpkins