Skip Navigation
Website Accessibility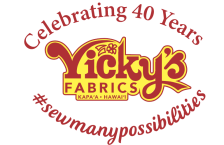 Open Sew - August
Open sew is the perfect time to finish those UFO?s you have Lying around the house. Pack up your sewing machine and unfinished projects and join your fellow sewing buddies!

What open sew is:
Open Sew is a social sewing club, where each persons stitches whatever they want at their own pace. You will have the use of our sewing room, irons, great lighting, mats, rulers and tools. Staff will be available for questions, but persons taking the class need to be able to work on their own for the most part. Sewing machines are available to rent.

Open sew is not:
Open Sew is not the time to learn brand new techniques or sewing machine, skills, and features. We would be happy to help you with those in classes design for the technique you?d like to learn. If we aren?t offering the class you need to ask! We?d love to be able to help.
Open Sew - August