Skip Navigation
Website Accessibility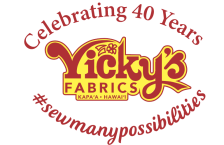 Kids Sewing Camp - Ages 12 and up - Has some sewing experience
Got a future fashion design in your midst? Start them out early with Barbara?s Sewing for Kids Camp! Ages 12 and up.. Student chooses their project with guidance from Barbara. Students are encourage to expand their sewing skills and take on new challenges.

Contact Instructor, Barbara Green at 818-383-1155 for more info..
Skill Details:
Kids 12 + Student must have previous sewing experience or consent of instructor.
Instructor Name:
Barbara Green
Kids Sewing Camp - Ages 12 and up - Has some sewing experience
Mon, Mar 18, 2024 at 9:30 am to Noon
Tue, Mar 19, 2024 at 9:30 am to Noon
Wed, Mar 20, 2024 at 9:30 am to Noon
Thu, Mar 21, 2024 at 9:30 am to Noon
Fri, Mar 22, 2024 at 9:30 am to Noon