Skip Navigation
Website Accessibility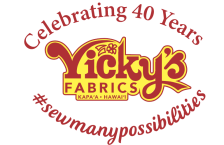 Introduction to Sewing ~ One Yard Tote Bag
This class is for anyone that has not sewn before, or maybe has attempted to sew, but a very long time ago. In this class you will learn how to thread?
a sewing
machine, how to sew straight, curved, and corner seams. By the end of this class, you will have completed a simple project that introduces you to some basic fundamentals of sewing.

Ages 16 and up. We recommend participants bring their own sewing machines to learn on. We do have a limited amount of machines for rent for $5.00 per class session. Machines need to be reserved by calling 808-822-1746.

Skill Details:
No sewing experience required
Requirements:
Sewing machine in good working order, 1 yard of non-directional woven fabric, thread to match fabric, scissors, pins, marking pen or pencil, tape measure or seam gauge.
Instructor Name:
Toni Wass
Introduction to Sewing ~ One Yard Tote Bag