Skip Navigation
Website Accessibility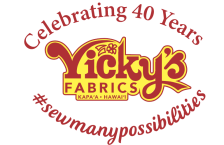 Classes
Guest Speaker Debbie Maddy
This is a combination slide presentation and trunk show. Debby will explain the concept of Shibori and show examples of many of the different techniques. The slide presentation is of her Shibori experiences in Japan, England and the US where she has done extensive studies. She will also show a collection of hand dyed fabrics and quilts made from Shibori fabrics.
Cost:
$ 25.00
Miniature Challenge - Due Date February 2nd by 3pm.
Join us for our 5th Annual Miniature Challenge! For $5 you get a piece of our challenge fabric and entry into the contest. Entry due back at Vickys by February 2nd. Mini must be under 18 inches or less than 72 inches perimeter. More or less than 4 sides. Fabric mails out on November 15th.
Cost:
$ 5.00